Sam Snow - LD40
Sam Snow and the icy wizard
The more (higher) you get, the worse it gets.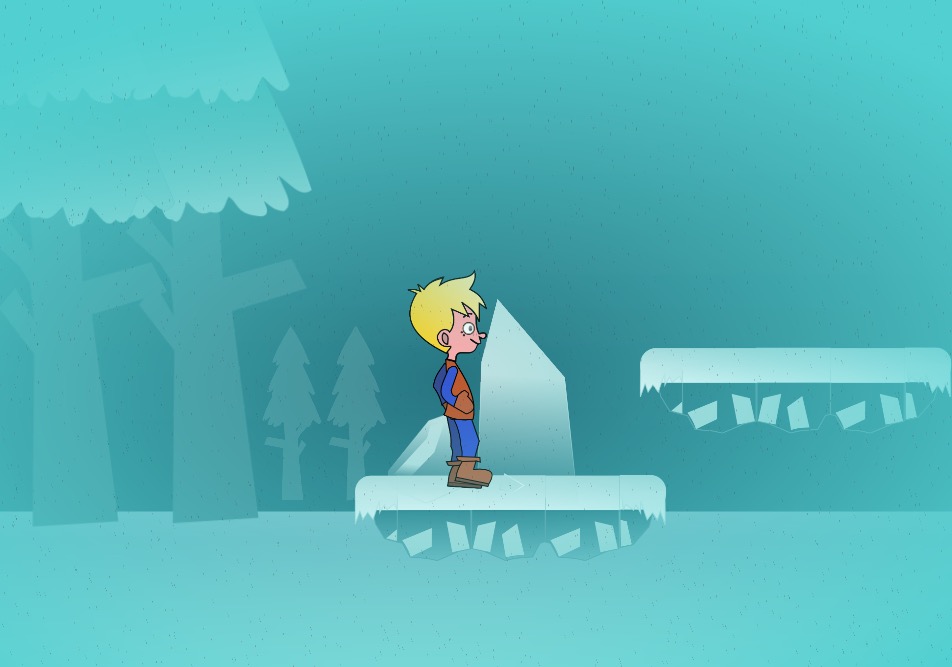 You are a young boy (Sam). You lived a happy live in the sunny kingdom. One day a evil wizard appeared that transformed your kingdom into an icy landscape. Now you have been chosen by the omniscient oracle to drive the evil wizard out of sunny kingdom. To free it from its icy occupator and to let the sun shine again. To fight the evil wizard you have to climb to the top of the dusty mountain and challenge him for a fight. But be aware the higher you get the less you will be able to see. And if you fall … just don't fall.
Controls:
Control Sam with A-D-keys or the left- and right-arrow keys. To be able to climb the mountain you sometimes have to use Sams super power: Jump 2 Times in a row.
Use the space-bar-key to jump (up to 2 times in a row) and the F-key to throw fireballs.
The servants of the evil wizard are:
The evil Snowman:
He throws icy snowballs at you that will hurt you.
The gruesome Snowghost:
He is not bound to a body, which makes him extremely dangerous. If you come too close to him he will hunt you down and suck the life out of you.
In the first level you have to climb to the top and find a golden key that will teleport you to the mountain of the evil wizard. There you will challenge him and his servants to fight you. He looks like an ordinary oversized snowman … but be aware!
–
The higher you get the smaller your field of view becomes:
–
Tools used:
Unity, Inkscape, Audacity for Sound editing (Sounds recorded by me).
Everything was done on a Macbook Air with a Touchpad.
Snow sounds were recorded with an Iphone6S Plus.
Wind sounds were recorded with the Internal Macbook Microphone.
This is my first GameJam and my first Ludum Dare.
I definitely plan too continue working on Sam Snow.

Let me know what do you think about the mechanics and the art style.

Thank you for playing Sam Snow :)
Matze (Matthias) Schedel
Download
Click download now to get access to the following files:
Sam_Snow_linux_universal.x86_64.zip
12 MB
Sam_Snow_Web_1.1.zip
6 MB
Sam_Snow_Mac.app.zip
17 MB
sam_snow_windows.zip
15 MB